Bake Off: The Professionals 2021
Meet the pastry chefs aiming to amaze the palates of our judges on the new series of Bake Off: The Professionals...
ALEX & STACEY, THE COLLEGE OF WEST ANGLIA
Friends and colleagues Alex and Stacey have worked together as lecturers at The College of West Anglia, Norfolk for 10 years.
Team Captain Alex has gone full circle, having trained at the college himself before going on to work in pubs and hotel kitchens. For a brief window, Alex saw his work take him abroad to Port Douglas, Australia. There he spent time at the 5 star Sheraton Hotel before returning back to the UK and eventually as chef lecturer at The College of West Anglia.
Stacey was bitten with the baking bug at the tender age of just 4, when she would spend time in the kitchen with her mum. Following in the footsteps of her family, Stacey has worked in the hospitality industry since a very young age in FOH positions before a transition to the kitchens and pastry. In 2011, she joined The College of West Anglia and now runs the pastry section for students, some of whom she has mentored in competitions all the way to the finals of Young Chocolatier of the year.
Alex and Stacey are hungry for success and to show that regardless of how long you've been in the industry, you never stop learning. No matter how far they go in the competition they hope to make their students proud!
GEANINA & GEORGE, PRESTIGE PATISSERIE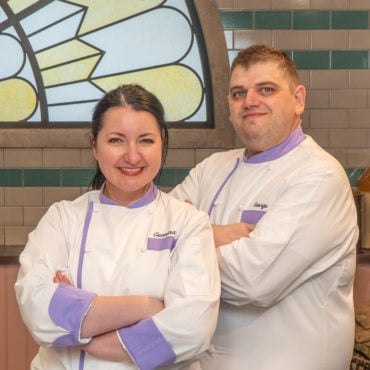 Geanina and George are a husband and wife team who run their own independent, award-winning patisserie in Tottenham, North London.
Team Captain Geanina has been working in patisserie for over 20 years, having begun her training in Romania when she was just 14. George, who initially worked as an engineer, began working in bakeries and patisseries when the pair moved to the UK – using his science background to help approach the science of patisserie. Geanina cites George as the one who gave her the encouragement and confidence to open her first venture. Initially they ran the business out of their one-bedroom flat before dedication and hard work paid off and they found permanent premises – the pair have never looked back.
Teammates in life and work – have they got what it takes to go all the way?
JAMIE & ANDREA, ST. ERMIN'S HOTEL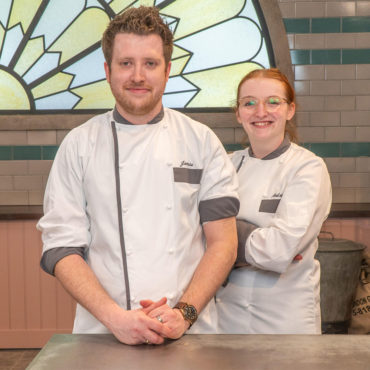 Representing London's 4* St. Ermin's Hotel are Team Captain and Head Pastry chef Jamie and his teammate Andrea.
Former Young Chef of the Year finalist Jamie has a string of some of London's finest establishments under his belt, including Rhodes W1, Searcys at the Gherkin where he was first promoted to head pastry chef, Jason Atherton's Social Eating House and a stint at Launceston Place, before joining St. Ermin's Hotel in 2017 heading up the pastry team.
Teammate Andrea trained in France, qualifying top of the class before taking as many positions in pastry as possible to garner as much experience as she could, which saw her travelling to places such as Texas, USA to hone her skills before moving to the UK and joining St. Ermin's Hotel in 2018. Although this is Andrea's first competitive environment, under Jamie's tutelage the pair believe they have what it takes to challenge some of the best pastry chefs in the UK.
JULIEN & ELISE, JULIEN PLUMART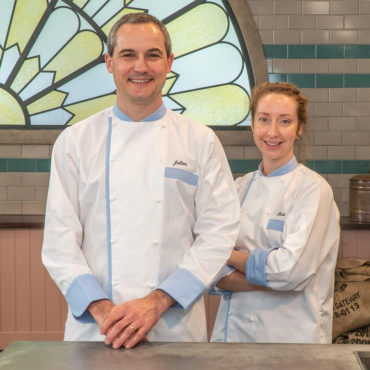 Hospitality runs through Team Captain Julien's blood, having grown up in his parents' traditional French restaurant and summers spent working at his godmother's chateau. It was during these summers his passion for pastry was ignited. After many years of training, Julien worked both at home in France and in the UK. In 2008, Julien opened his first business in Brighton, Julien Plumart.
Teammate Elise moved from France to the UK when she was just 20 and has been working for Julien for the last 2 years.
Both Julien and Elise love to run, both having run half marathons, and they hope this driven and competitive side in them stands them in good stead for this tough patisserie competition.
KEIRON & REBECCA, KEIRON GEORGE CAKE DESIGN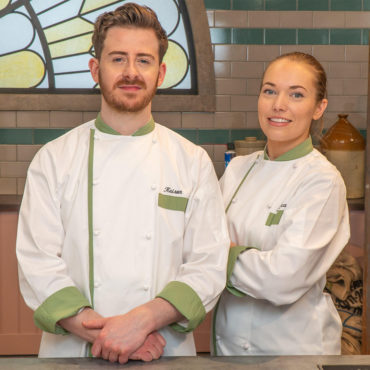 Keiron George Cake Design was set up in 2015 by Team Captain Keiron and he is joined by close friend and former colleague Rebecca. Both have worked at some of London's finest 5* hotels before the pair finally met whilst working at Hotel Café Royal and going on to forge a firm friendship. They are constantly developing and learning from each other but are always putting fun and friendship at the core of everything they do.
Keiron George Cake Design is based in London and focuses on luxury and creative wedding cakes. The pair hope with their combined experience, knowledge and friendship they have what it takes to be one step ahead of the pack.
KEVIN & MARIA-VITTORIA, THE LANESBOROUGH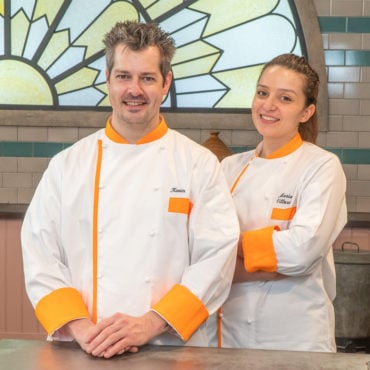 Kevin and Maria-Vittoria are representing London's 5* hotel The Lanesborough, which proudly sits on Hyde Park Corner.
Team Captain Kevin is driven by a desire to show that South Africa can produce some of the best pastry chefs, and in 2010 he was a member of the South African Culinary Team winning 2 silver medals at the Culinary World Cup. His career has seen him working at 5* establishments in his home country of South Africa and as Senior Chocolatier for Lindt before moving to the UK and gaining even more stripes on his chef whites at places such as Hibiscus Restaurant, Petrus and Core before joining The Lanesborough as head pastry chef.
Hailing from Italy, Maria-Vittoria moved to The Lanesborough in 2019 and says she is constantly learning from Kevin. There was no question for Kevin when approaching this competition that he should do it with Maria-Vittoria as his teammate.
LERRICK & LINEKER, SOFITEL LONDON ST JAMES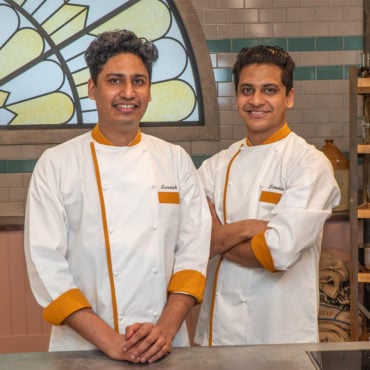 Brothers Lerrick and Lineker hail from Goa and both have a progressive approach to patisserie, drawing on flavours and techniques from their rich culture. They are representing 5* Sofitel London St James, which sits in the heart of London's West End.
Team Captain Lerrick began his patisserie career in 2013 at the Oberoi in Mumbai, and in 2019 he followed his younger brother Lineker to London and joined Sofitel London St James. Named after their dad's favourite footballer, Lineker was inspired to bake after watching his older brother and, after studying and working in Goa, he decided on moving to London in 2017 to continue to develop his patisserie career.
The brothers are incredibly close and have a special bond, but under the strains of the competition will we see sibling synergy or will sparks fly?
MICHAEL & ANDREW, GIN & BAKE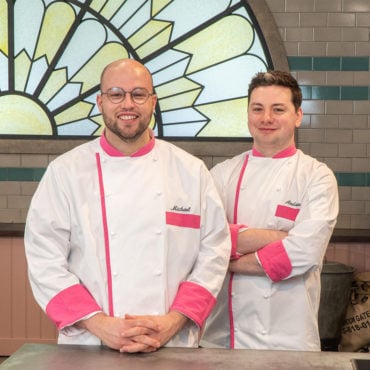 Cardiff based Gin & Bake is Wales's only patisserie with a dedicated gin garden.
Team Captain Michael isn't green to this competition, having fallen short of making it to the final six in 2018, and he hopes this time around he and teammate Andrew have what it takes to go all the way. Having a string of 5 star establishments under his belt, such as Gleneagles in Scotland and Cardiff's St David's, Michael – or Mikey to his friends – now heads up the pastry team and recipe development at Gin & Bake.
Friend and teammate Andrew is as passionate about his homeland, Wales, as he is pastry, having never been tempted to leave… no matter how enticing the work. Andrew has worked at various establishments in Wales before joining Michael at Gin & Bake.
These boys are proud of their Welsh roots and are ready to show the patisserie world what Wales has to offer, and hopefully take the trophy back to Cardiff for the second year running!
NESSIE & DOMINO, CHELSEA CAKE COMPANY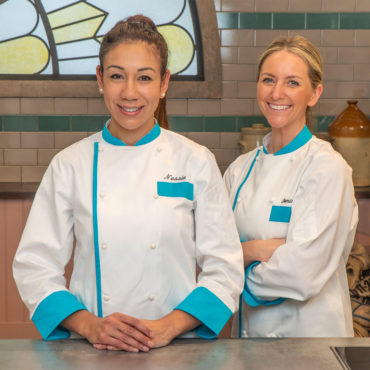 Chelsea Cake Company were formed in 2012 by Team Captain Nessie after leaving her job in finance. She is completely self-taught and is joined by teammate and righthand woman in the business, Domino, who is also self-taught. The formidable pair have spent the last 8 years making some incredible creations for weddings, large-scale events for Royalty, politicians and celebrities across the globe. Nessie has an incredibly fierce competitive streak, having taken part in ironman competitions, triathlons and marathons and it is with the same determination and military precision that she hopes will see them make it all the way to the final and be crowned the first all-female winners of Bake Off: The Professionals.
SARAH & CRISTINA, THE RUBENS AT THE PALACE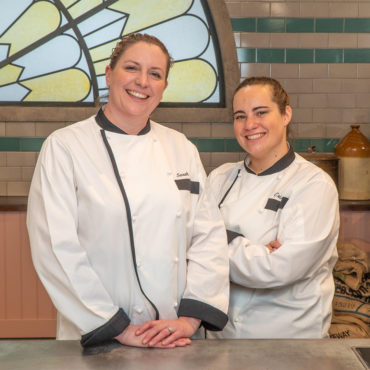 The Rubens at the Palace is one of the most historic and distinguished hotels in London, famed for standing as neighbours to Buckingham Palace since the 1700s. The hotel is represented by Team Captain Sarah, one of three chefs hailing from South Africa in this year's competition, and her teammate and wing-woman in the kitchen, Cristina.
Largely self-taught, Sarah grew up on a sugar cane farm, and was always drawn to pastry. She moved to the UK in 2005 where she worked in both London and Scotland before moving to The Rubens at the Palace and where she has held the position of Head Pastry chef for the past three years and is charged with developing sweet treats and the Royal Afternoon Tea.
Teammate Cristina grew up in Como, Italy and always dreamt of being a chef. At 19 she moved to the UK and worked at some of London's finest establishments, including The Dorchester, Hotel Café Royal and Mayfair's Club 5. Having joined Sarah in 2019, she's found her 6th gear and the pair believe they will bring out each other's strengths in this fierce competition.
SHERRAZADE & MERRYN, THE BRISTOL LOAF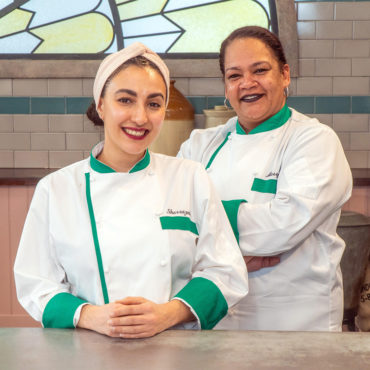 The Bristol Loaf is a small, independent, artisan bakery situated in Bristol where breads, pastries, cakes and savouries are freshly baked in-house daily. However, there is nothing small about this duo's desire to be the best.
Hailing from France, Team Captain Sherrazade has always been fascinated with patisserie and has worked at various hotels and restaurants in France before moving to the UK in early 2018 to improve her English and patisserie repertoire.
It was working at The Bristol Loaf that she met South African born Merryn, who after initially studying psychology realised that it was in the professional kitchens where her passion lay. After her training, she moved to the UK where she spent 8 years working at Harvey Nichols as a pastry chef. After her second child was born, she joined The Bristol Loaf as one of the original team members and helped build the business to what it is today.
They hope their friendship and passion combined with the ability to laugh even during the most stressful of environments will see them go far.
STEFANO & SARA, CULTURE WHISK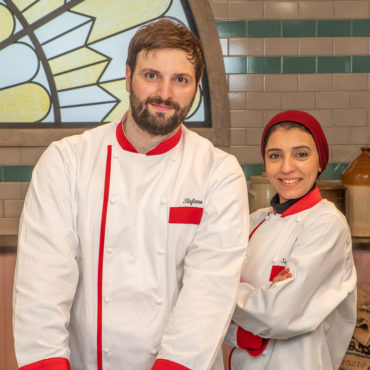 Like-minded friends Stefano and Sara are a limitless combination. Stefano hails from Italy, Sara from Egypt. One is an executive pastry chef and the other a cake company owner.
Team captain Stefano was made redundant as the pandemic hit, but his 11 year career has included Michelin establishments, the Italian Embassy in Russia, Locanda Locatelli, the Four Seasons and as executive pastry chef at private members bar, Harry's.
Sara learnt to cook and bake from her mother and grandmother whilst growing up in Egypt and from the age of 11 began recreating what she loved. Largely a self-taught patisserie chef, she is a perfectionist who has even had her edible creations on display at the V&A.
Since meeting in 2018, Stefano and Sara have gone on to become great friends and as the pandemic began taking a turn for the worse in 2020 they decided they would make the best of a tough situation and combined forces. They set up their own Youtube channel 'Culture Whisk' out of Sara's London based home, sharing traditional family recipes with viewers and each other.
Join Benoit Blin, Cherish Finden, Liam Charles and Tom Allen on Tuesday 25th May at 8pm on Channel 4 as the quest for pâtisserie perfection begins.